Husband Says He's at Work – Hours Later Wife Finds Him Lying on the Beach with a Woman
Nobody likes being caught in embarrassing situations or seeing their seemingly epic plans fall apart. This couldn't be more true for one man who told his wife he was headed to the office to work overtime. Little did he know that he would soon meet her under unpleasant circumstances.

The use of social media has alarmingly increased in recent years. Many people rely on Facebook and Twitter for their daily dose of news worldwide. However, another exciting phenomenon we've all become acquainted with is the power of virality.
Nowadays, anything can become a viral sensation online, spreading like wildfire in mere seconds. Such is the case with two videos shared by TikToker @_alejandro_ok in December 2022. They centered around a man who was caught by complete surprise when he least expected it. Here's the whole story.
The first clip showed a man lying on the beach with a woman. As the camera zoomed in, the two could be seen hugging each other and cozying up, but it didn't last long. Shortly afterward, the man felt a little uneasy, and when he lifted his head, he was flabbergasted to discover he was being filmed.

But his hollow words made no difference whatsoever, only aggravating the confrontation.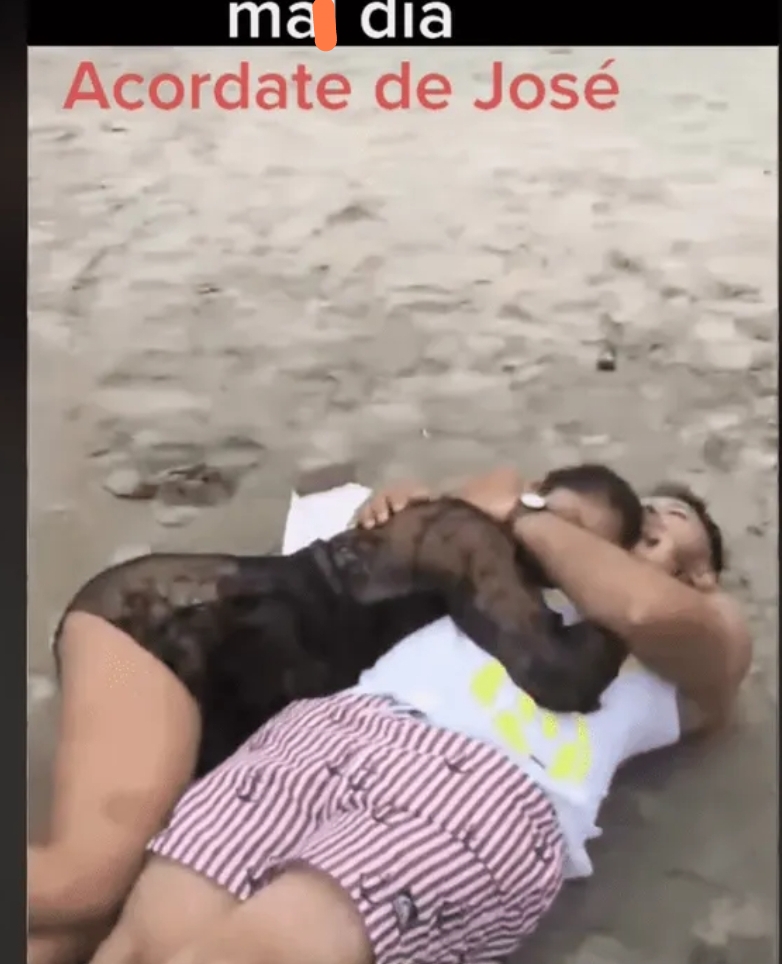 Clearly, the man was caught off-guard because he had tried his best to plan things perfectly. According to the TikToker's video, the man's name was José, and he left home telling his wife he was going to the office.

José reportedly told his wife he had to work overtime so she wouldn't doubt his intentions and believe him. He thought he had taken care of things to the best of his abilities, never once expecting to be caught in his act or face sheer embarrassment.
It turned out the person filming José and the woman next to him was none other than his wife. The sequence of events pointed to only one thing—she didn't buy his version of the story and wanted to see what kept him at work after his shift.


When José saw his wife, he immediately told her to stop taking the video and even tried to reason with her. Unfortunately, all his attempts to calm her down or make her listen failed miserably. Even the woman beside him—his alleged secretary—felt uncomfortable and began hiding her face..


The video showed Jose's wife trying to capture the scene on the beach while she voiced her anger and disappointment. Meanwhile, her husband's alleged secretary struggled to escape the camera, so she turned her face to the other side and rose to her feet.
A desperate José was seen giving justifications to his wife, but she was too annoyed and hurt to listen. "Is this your job? How beautiful [is] your work, my love. Your work is perfect," exclaimed the furious wife who kept her camera rolling.
To avoid embarrassment in public, José pleaded with his wife to stop recording and insisted they have a proper conversation at home. But his hollow words made no difference whatsoever, only aggravating the confrontation.

In the video, José's wife also addressed his supposed secretary, reminding her that the man next to her was a husband and father. "Why are you with him? Value yourself, woman! Respect yourself," demanded the outraged wife before turning to her husband and telling him he was not only unfaithful and disrespectful but also a huge disappointment.