Newborn Dies Hours after Mom Hugs Her for the First Time – Her Twin Died in utero Months Before
A couple was eagerly awaiting the arrival of their little girl. The mom's pregnancy was tough, and she was worried when she went into labor at 25 weeks.

Molly Bragg and Michael Gray couldn't wait to grow their little family. The couple had a little one-year-old named Josie, and they were delighted to announce that Molly was pregnant with twins
Like many parents, they likely started dreaming about the future and imagining what their babies would look like, unaware that their journey would be filled with heartbreak and tragedy.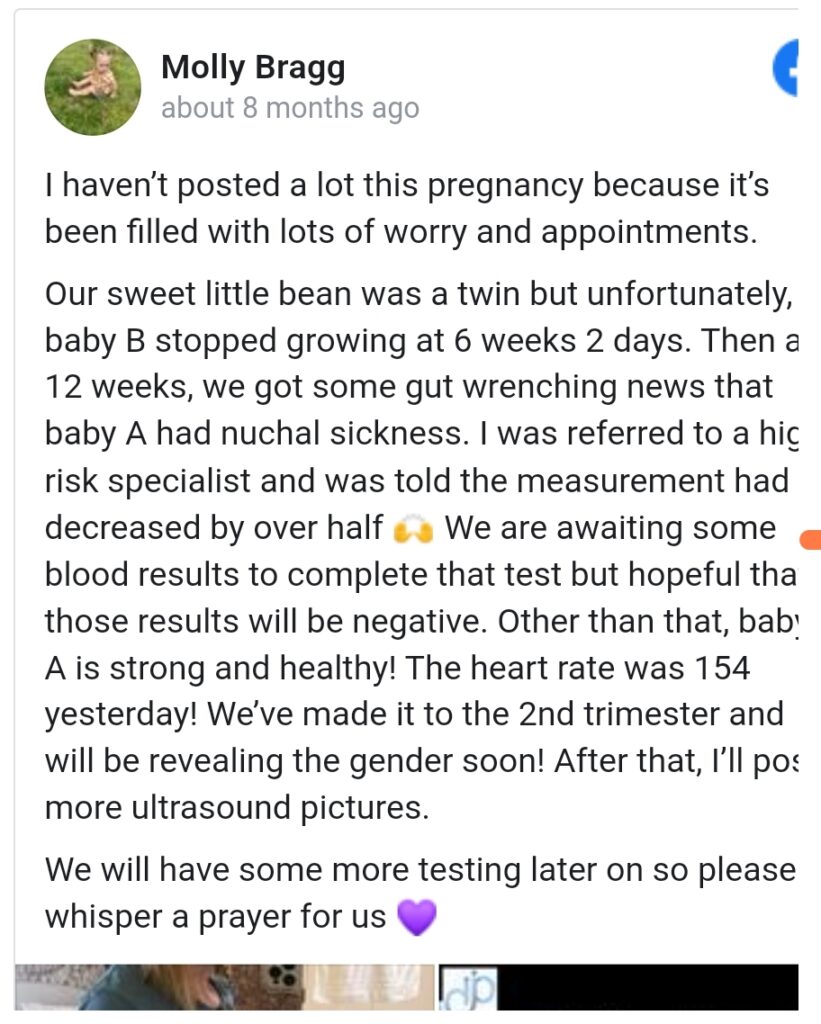 In July 2022, Molly shared that she kept her pregnancy quiet because it was filled with many doctor appointments and anxious moments. The mother revealed that one of their twins stopped growing at six weeks.


The couple had to say goodbye to their unborn little one but were grateful to have another baby, still healthy and alive. However, when Molly went for her 12-week check-up, she received more unexpected news.

Their remaining baby had health complications and was classified as high-risk. The mother added that against all odds, the little one was strong and fighting to survive:
"We've made it to the 2nd trimester and will be revealing the gender soon! After that, I'll post more ultrasound pictures. We will have some more testing later on so please whisper a prayer for us."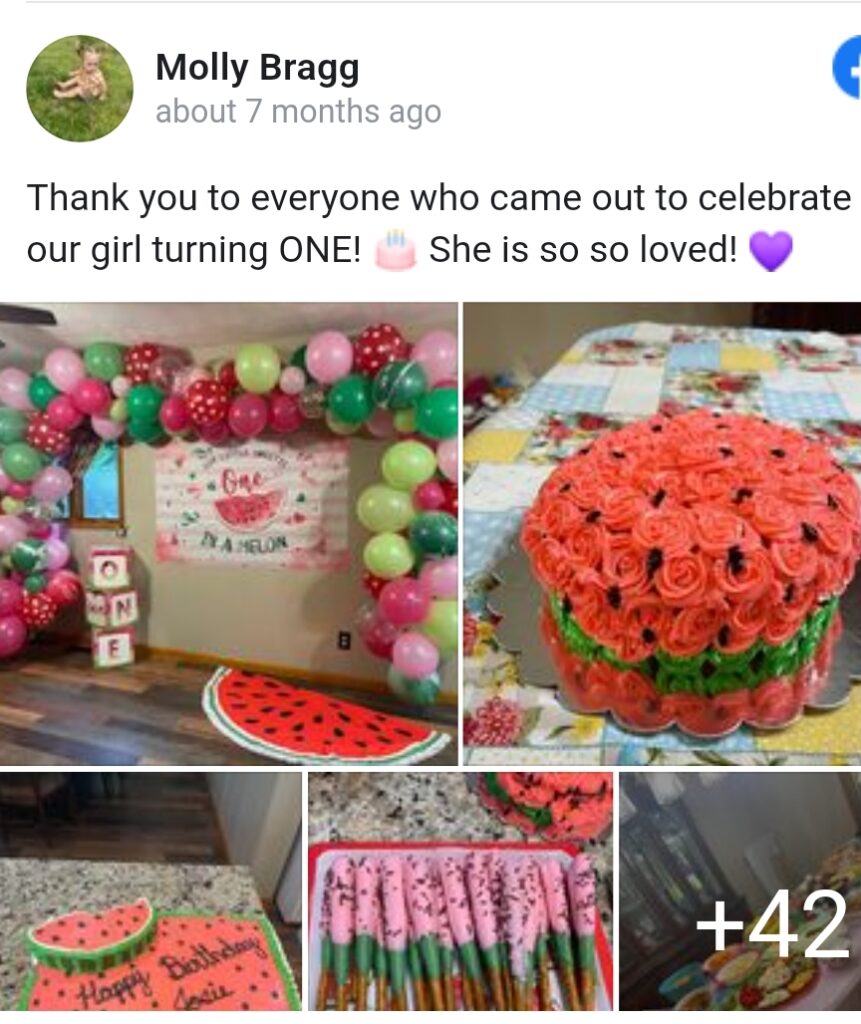 Family and friends hoped and prayed for the best. By October 15, Molly posted an update on Facebook: "Due to complications, my miracle baby girl, Madalynn Elizabeth, entered the world by emergency c-section this morning."

Little Madalynn came into the world at only 25 weeks, weighing only 1lb 15.4oz, and she was just 12.6in long. The mother noted that many things were working against their angel girl, but they were thankful for every minute they had with her.

Molly's aunt, Sarah May Gray-Gandee accurately described the family's experience as the worst pain any mom or dad could endure.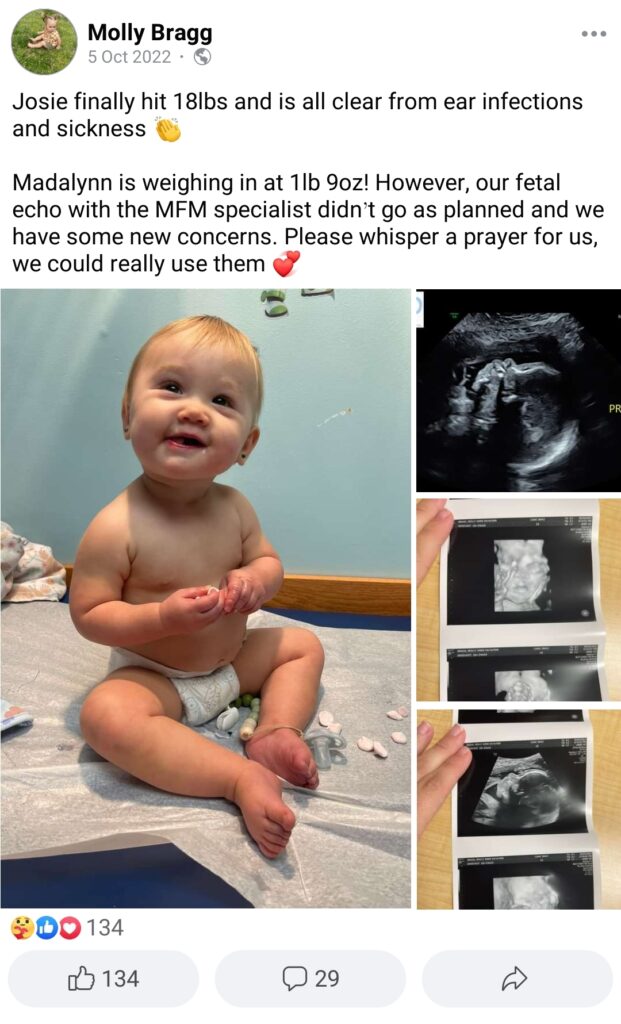 Lastly, the mother asked netizens to continue praying for baby Madalynn who had "absolutely perfect" long blonde eyelashes and a button nose. Everyone held their breath, hoping for a miracle. But, the following day, the family shared devastating news:


"Our beautiful angel baby girl passed away surrounded by the love of her mama and daddy. We didn't get much time with her but cherished every single moment. If love could've saved you, you would've lived forever."

The newborn died hours after her mom and dad hugged her for the first time. The couple suffered what no parent should, and their heartbreak was doubled because they had already lost Madalynn's twin in utero months earlier.
Molly's aunt, Sarah May Gray-Gandee, accurately described the family's experience as the worst pain any mom or dad could endure.

Sarah also noted that their entire family was shattered. She set up a GoFundMe page to assist with any financial needs and asked the public to help:


"My precious nephew and niece are suffering a loss that is unfathomable. Please consider donating to this account to help them during this tragic situation."

Sarah believed God would help the family through the tragic and painful time. Thankfully, their community stepped in to assist wherever possible.
By October 20, more than $6,000 had been donated, and the couple was in awe of the generosity and kindness. Molly expressed her thankfulness and wrote:

"From the bottom of our hearts, we thank you all … While I can't thank everyone individually, we truly appreciate all of the prayers, comments, messages, phone calls, and donations. They certainly aren't going unnoticed."
Our heartfelt thoughts and prayers go to Molly and the rest of her grieving family. They lost their precious angel before getting to know her, and their healing journey will be challenging. May God grant them the strength to continue during this painful time. RIP, brave little fighter.