Parents Plan Funeral for Daughter Who 'Died 3 Times' – Two-And-A-Half-Years Later The Unexpected Took Place
Reece and Laura Dunn lived in denial when they discovered their daughter had cancer. Eventually, the couple accepted it and even planned her funeral, but Isla-Mae was not ready to leave her family, so she beat the disease.

2020 was a tough year for everyone around the world. It introduced a new disease that claimed lives and forced the closure of schools and businesses; the world was at a standstill.
For the Dunn family, 2020 will continue to be the year their lives changed. Their then-three-year-old daughter had a high temperature and breathing problems, and the doctor diagnosed tonsillitis.
A few months later, the couple discovered she had acute lymphoblastic leukemia. Together, they battled the illness, and despite their daughter dying three times, Isla-Mae will live to celebrate her fifth Christmas!


Reece and Laura Did Not Accept Their Daughter's Diagnosis

During the Covid pandemic, a Bagthorpe couple, Reece and Laura, realized that their daughter, Isla-Mae, was developing different symptoms. They sought medical help and even treated her using antibiotics.


The couple had believed it was a cold but eventually confirmed that the doctors had misdiagnosed her and that they were dealing with a more dangerous disease: cancer.
Before checking her into the hospital, Isla-Mae seemed to be normal. "We got in the car, and Isla was still playing and smiling, so we didn't expect it to be anything serious," Reece confirmed.

"Even when I dropped her and Laura at King's Mill Hospital, Isla turned to me and grinned, 'see you later, daddy,'" he added.
It was impossible to accept that their child, who was full of life, charming, and very active, would suffer from anything other than a cold or tonsillitis, so it was unbelievable when the results came back. Laura revealed:

"I said 'there's no way she's got cancer, she's running around!' So I called Reece, and he said the same thing – we were both in denial."
Isla-Mae stayed in the hospital for some time, undergoing different treatments and tests to stabilize her health and monitor her cancer.

The doctors took her in for surgery to remove the tumor; shockingly, the toddler died three times. Following the success of the surgery, she began chemotherapy, and this was a worrisome period for the couple as their once bubbly little girl began to lose her hair.

Although Isla-Mae was released to her parents for Christmas, she returned to the hospital a few weeks later.
Laura's mini-me suffered from blood clotting and contracted Covid-19 twice. This was when the couple struggled to keep up the hope.

Even after the treatment, Isla-Mae remained highly vulnerable to infection. During the Christmas Holiday in 2021, she battled a potential fungal infection.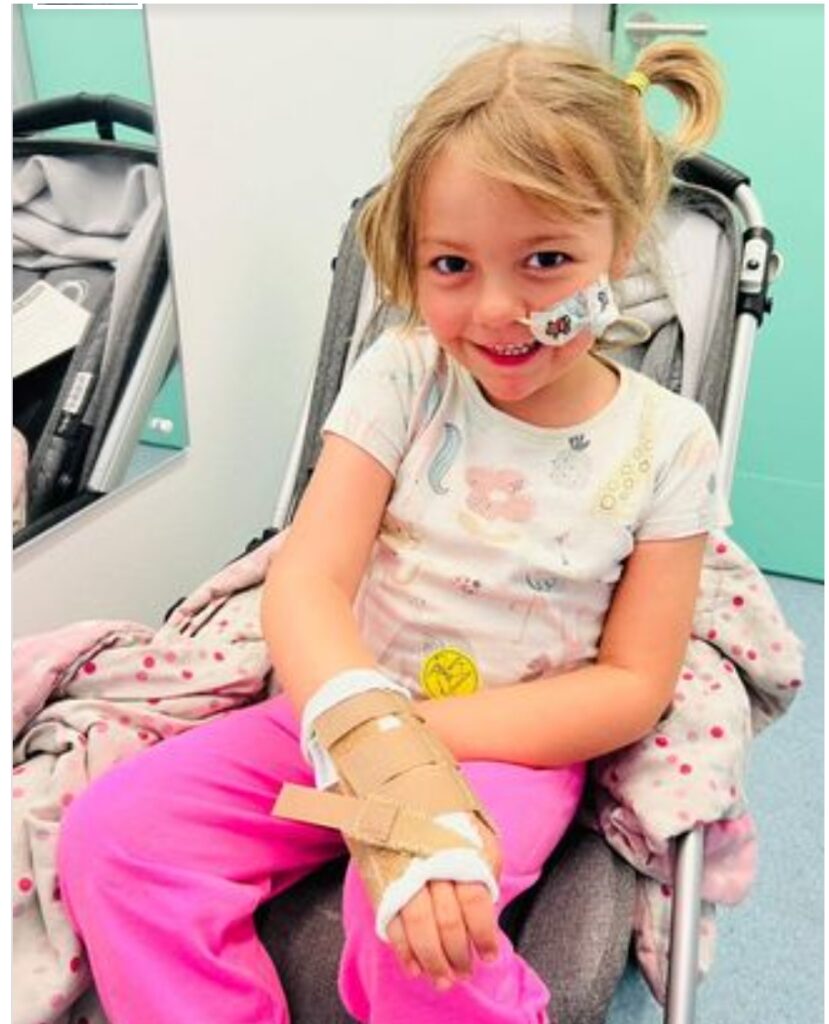 Earlier this year, Isla-Mae began her final chemotherapy. Again, the tests were run continuously, and on September 2, after six tests verified that she was free of infections, she was given the all-clear and declared cancer-free.

"Isla had to read a plaque and ring the bell. There were cheers, but some of the nurses didn't even know, so it would have been nice if everyone who had treated Isla could have been there," Laura happily shared.


Throughout the journey, the couple has shown unwavering support for their daughter, and it never mattered whether it came at a price. In 2020, Laura became a mom again after welcoming the youngest of her brood. Unfortunately, this coincided with when Isla-Mae was undergoing treatment.

The family described it as a "bittersweet" moment. Although they were happy to welcome a new child, they decided not to celebrate the birth due to their sick daughter's condition.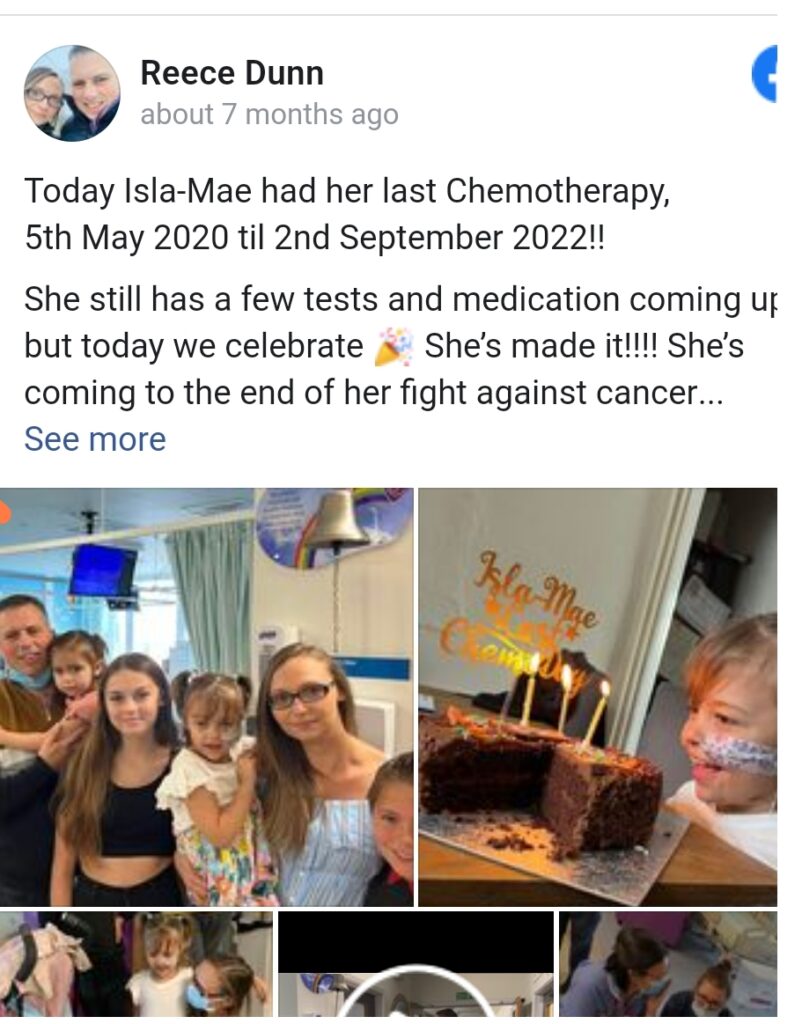 Again, long before Isla-Mae was declared cancer-free, the family abandoned their beloved pub in Nottinghamshire to concentrate on giving their daughter the best care. According to Reece:

"We left the pub in June. We felt we needed to take a step back. We are looking to stay in the pub trade, but just for now, I need to take a step back. I do not know how we have done it but we did it and pulled together."

Reece worked as the general manager at the popular Shepherd's Rest pub, but the family opted for life away from the pub as they rented a new home. While resting, they intend to prioritize their daughter, who will undergo a series of tests, despite being cancer-free.
Isla-Mae's father opened a GoFundMe account to raise $1,127.62 (£1,000) to help with her medical expenses. Thankfully, there have been over three hundred donors, and the amount raised so far is about $7,614.30 (£6,750).

A Story of Appreciation and Hope
The family was overjoyed at their daughter's bravery and attitude the entire period. Laura explained, "we had a little tea party for her with cake. We're so proud of her. What she's been through has been heartbreaking."
Although her daughter is free and will continue to visit the hospital for checkups, the lessons learned over the past three years remain fresh in Laura's mind. She said:
"It's made me appreciate the little things in life, and we just want to offer that same hope to other parents who might be going through the same thing – there is light at the end of the tunnel. Just keep going."